CLASS BOOKED!
Welcome to Orangetheory Fitness and thank you for signing up for your first class. You will soon experience the world's best 60-minute workout.
Our studio manager will contact you to confirm your first workout. In the meantime, check out our class schedule below, and learn about what to expect for your first class. You must arrive 30 minutes early for onboarding, otherwise you will need to reschedule. See you soon.
HOW SHOULD I PREPARE FOR MY FIRST ORANGETHEORY CLASS?
BRING: TOWEL & WATER
ARRIVE 30 MIN. EARLY
Drink plenty of water throughout the day.
Arrive at least 30 minutes prior to class time. A team member will ask you about your fitness goals as well as any orthopedic issues we should know about.
After explaining how the class works, a coach will lend you a heart rate monitor to wear. Depending on your fitness level, your coach will give you guidelines for what to aim for during your workout.
DURING THE CLASS
Cardio, Rowing and strength stations
You will either start on the treadmill, bike or strider for the cardio portion or on the rower for the strength training portion, which includes floor exercises with the TRX systems, benches and free weights.
The coach will explain how to do each floor exercise as well as the interval length and speed during cardio. Be sure to listen closely and don't be afraid to ask questions! The coaches are here to help and can even correct your form if needed.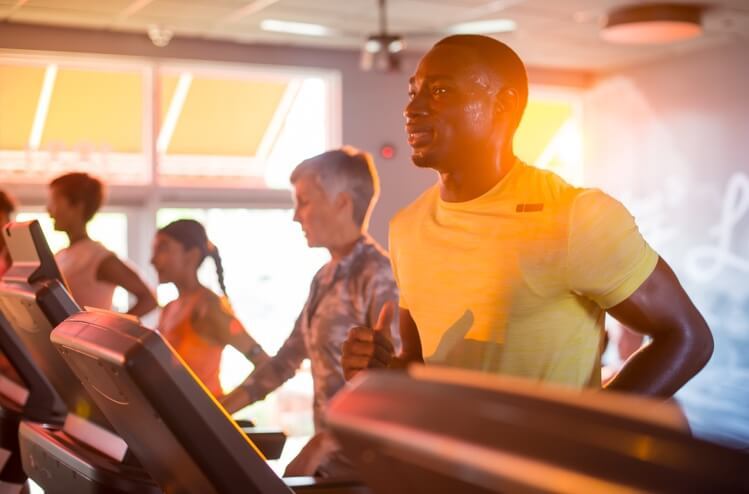 AFTER
INSTANT RESULTS
The coach will then lead the class through a cool-down stretch. After class, you will receive a workout summary with your results, which includes the total number of splat points earned, minutes spent in each heart rate zone, calories burned, and heart rate statistics. You can even share your stats on social media!
What are you waiting for? Get on your way to more life and book your first Orangetheory Fitness.
"I think we all remember our first class. That nervous feeling going in, that feeling like there is no way you are going to make it through, and then that amazing feeling of accomplishment at the end."
— Carissa C., Member Since October 2017